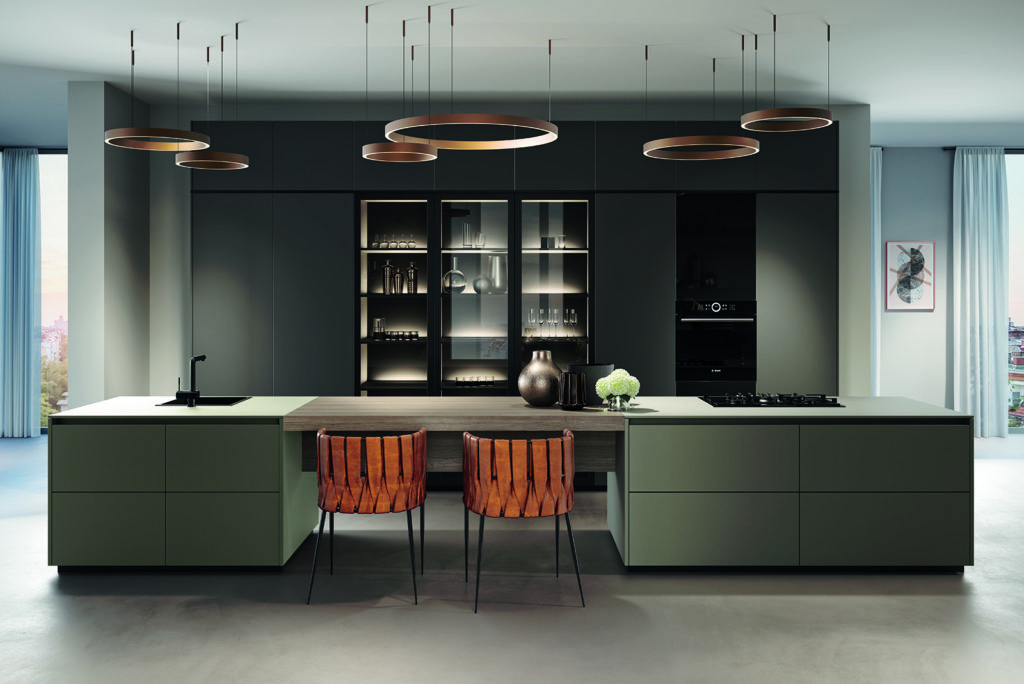 Twelve Top Tips For Planning The Perfect Kitchen
Today's kitchens are more than ever, the heart of the home, a place for the whole family to eat, cook, chat, work, and play. They are also likely to be the largest single spend in your house, therefore careful planning is required to ensure your kitchen is not only beautiful to look at but equally functional to work and play in.
Here are 12 top tips to consider when planning your perfect kitchen:
Layout
Critical Dimensions – Consider the shape of your kitchen and the pathways through it. A well-designed kitchen will ensure ergonomic flow. Gaps between worksurfaces will be no more than a step and pivot, and ample space should be allowed in front of appliances.
Eliminate wasted steps – Think about how and where you use everyday items. Everyday cutlery and crockery should be near the dishwasher and within the work zones; whereas occasional items which get taken out for Christmas, parties, BBQ's should be in overflow storage areas. These could be on the reverse of an island or overhead units.
Make the most of hard to reach corners – There are clever internal solutions available which maximise storage within these types of units. Whilst these can add extra costs, they do prove to be invaluable. If you only invest in one, make it a good corner storage unit.
Movement – Kitchens are becoming more open plan and now incorporate dining, living and social areas. With that in mind your kitchen is likely to have a higher traffic through it than before. For a more family-friendly kitchen design you will need to consider the position of the hob and sink; an outward facing hob into the room creates a more social dynamic. Refrigeration and wine coolers nearer to communal areas give accessibility to both passers-by, and people working in the cooking and prep zones.
Functionality
Appliance position – Here we need to consider the heights and location of appliances.

Can you reach a microwave if it is placed above an eye level oven?
Is the hob going on an island or on an internal or external wall and what are the constraints?
Is the extractor to be recirculating or ducted – whilst most people would like their extractor ducted, it's not always possible in open plan rooms where large RSJs and steel beams are being installed.

What is the island's function? – If you want to cook and eat on the island, then make sure you have enough space to separate the two areas.
Recycling – Make recycling easy with a bin system in one of the cabinets. Separate pull out bins for glass, tins, plastic and general food waste, keep things simple to use.
A place for every part – Write out a list of all the items you wish to store in your kitchen, better still take photos to share with your designer.
Aesthetics
Lighting – This is so important; I advise clients to put in as much lighting as possible. A well-designed lighting scheme can make a small space feel larger and significantly alter the ambience of a room. Points to consider:

Task lighting – should be bright and shadow free, for safe cooking and preparation.
Mood lighting – can be softer and more creative – incorporate colour changing and motion dimmable LED's.
Statement – helps create a focal point.

Blocks – Avoid boring, heavy blocks of doors and drawers by adding interesting details such as bi-folds, glass doors and open shelving. Maybe remove wall units all together and put in a picture window or a post-box window which gives borrowed views and natural light. If you like the block look maybe use 2 tone colours to soften the structure.
Colours – Use lighter colours in a smaller kitchen if you want to make it appear bigger or wider. Dark colour schemes can shrink spaces, which may be ideal if you have a large open plan room which needs bringing in. A light-coloured kitchen in a large space could blend in too much and feel bland or clinical.

Remember a kitchen isn't seasonal, nor is it a fashion accessory. I would suggest you follow your style and not other people's suggestions as you are the one who has to live with it for a long period of time.

Focal point – Too many jarring colours and textures gives the eye way too much to focus on. Pick one main focal point in your kitchen design and complement that area with a few other quieter, eye catching details. If the island is to be the focal point then maybe choose a different door colour or worktop choice for this area. Illuminate the island with a bold pendant light and some statement barstools.