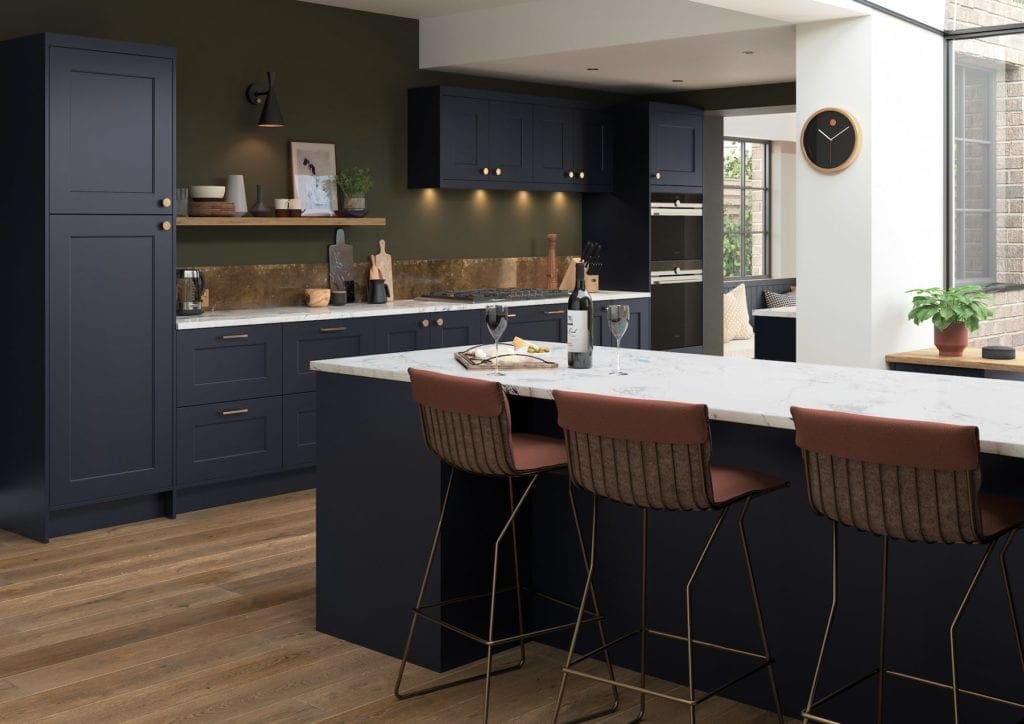 Turning A Kitchen Into A Home – Trends For 2021
2020 was a year when everything changed. In our homes this has led to families re-defining how they use their space, with the kitchen's role as the hub of the home, becoming even more important.
In 2021, we will continue to multi-task in the kitchen, using it for working from home, schoolwork, socialising, watching TV, eating, cooking and relaxing.
Families will want their kitchens to be hard working and to provide a safe environment for everyone. Surfaces and materials will need to be durable and suitable for cooking every day. When designing kitchen spaces, we as designers will be looking for an intuitive logic to the layout and organisation, to enable functional living.
The kitchen is an area with a lot of traffic and activity so a focus on materials and designs that help keep it super clean will be an essential part of future kitchen designs. One material that is likely to become more popular is copper because of its anti-bacterial properties. Often used to add a splash of glamour to a design, copper has properties that mean viruses do not linger for as long as on other metals. This makes it a great choice for light switches, handles, splashbacks, even worktops and sinks.
Kitchen furniture that may have been more at home in the living room will become the norm. Options such as media furniture to hold TV's and hide cabling, with associated shelving and drawers to keep entertainment paraphernalia at hand. New materials and modular systems will be utilised to create bookcases and tables that are designed to complement traditional kitchen furniture and create a relaxed living space.
Whilst open plan living will still be popular, rooms will take on a more relaxed feel with zoning to mark out areas for specific activities, such as play areas, home bars or chill out zones.
Storage will be key, with a mix of on-display solutions such as open shelves, or hidden storage with tall subtle doors that contain a utility area or a coffee station.
Islands will often play an important role in these kitchens and will usually be multi-functional, providing clearly marked areas for food preparation, cooking, eating and socialising. Storage within the island will be varied with end racks for magazines or spices, wine racks and shelving being incorporated.
Contrast will also be popular this year, mixing materials, textures and colours. Matching bold metallic with the warmth of wood for example, or an industrial edge with soft colours.
There will also be some splashes of 'bling', such as gold flecked worktops, copper splashbacks and metallic walls. This could also come from dramatic lighting or carefully selected furniture such as tables, chairs and stools to complete a look.
2021 promises to be a great year for kitchen design. Why not call and speak to one of our talented designers and start planning your dream kitchen today.