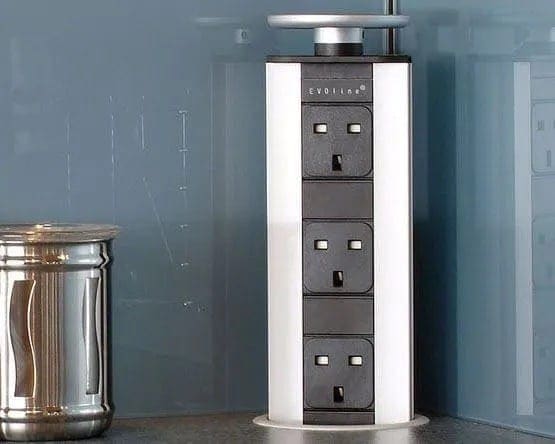 Power Up Your Kitchen
During the last year the kitchen has become an important place for the family to work and play, as well as to cook, eat and socialise. With families utilising multiple gadgets such as phones, tablets and laptops, it is possible to run out of places to charge them, or not to have the power points in convenient places.
This is a problem that is easily solved with some clever new power solutions, which can be designed into your new kitchen, or retrofitted to provide all the power you need.
Power sockets that can take plugs for small domestic appliances and USB connections for phones and tablets, can be incorporated into designs, on islands or near to breakfast bars, to provide easy access. These can be easily fitted into splashbacks or there is a corner option, for those that want to keep their splashbacks clear of interruptions.
Technology also provides other smart solutions that can be hidden away, ready to pop up from worktops and revealed power sockets and USB ports. You can even charge your phone wirelesses on top of the device when it is closed.
We have a motorised and multifunctional module on display in the showroom that has wireless charging, an integrated Bluetooth speaker, with 2 USB ports and 2 power sockets.
These modules are compact and flush-fitting, providing a discreet solution that maintains the clean and sleek look of your worktop.
If you would like to find out more about how you could power up your kitchen, why not call one of our experienced designers on 0121 572 1545