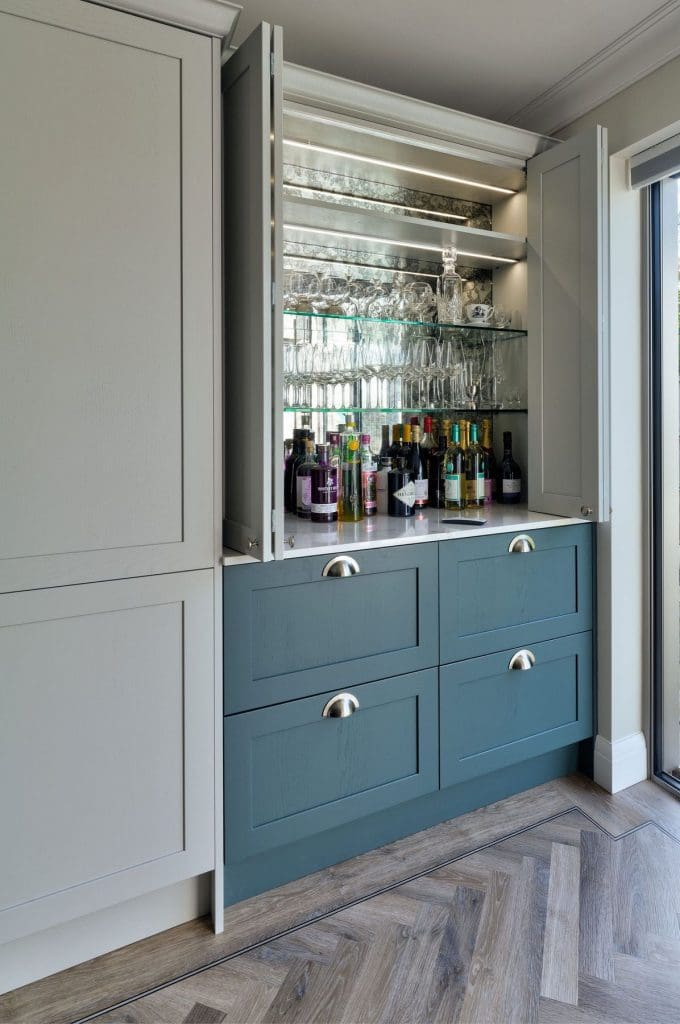 Kitchen Trends for 2023
This year is set to be an exciting one for kitchen design. The role of the kitchen has changed since we experienced lockdown and this has opened up new opportunities to design a room for multipurpose living that really is the heart of the home.
A room for all activities
Many family friendly designs now incorporate zoned areas, allowing space for home working, play areas for children, or just a desk space for home admin. In addition, areas to rest and socialise with soft seating, TV's and other media are increasingly added to the cooking and dining space.
In order to facilitate this we are seeing a greater emphasis on storage, with dedicated laundry and utility rooms, to keep these tasks out of the main kitchen areas.
Pantry cupboards or walk in larders are enjoying a revival and have established themselves as one of the must-have items in modern homes. Because so many food items can be stored together a kitchen no longer needs to be full of wall cupboards, freeing up walls to have open shelves or an attractive piece of artwork.

The idea of hiding things behind doors has also been extended to include full height cupboards that could hide appliances, cleaning products, or even a breakfast bar or drinks station.
Indoor bars are featuring more and more in our designs. Having your own perfect area to escape to, without having to leave your house. Having an indoor bar lets you host stylish parties with friends and family. Our designs can be truly bespoke, including storage for drinks and glasses, seating areas and worktops.
A room for everyone
Here at Qudaus we believe that everyone should be able to use and enjoy their kitchen, without compromising on style. That is why we are excited to be introducing a new range of kitchen furniture in 2023 designed to support independent living for family members with disability needs. These kitchens combine functionality and style, providing freedom for everyone to enjoy cooking and socialising in the kitchen space.
We have some lovely new displays in the showroom and predict a huge demand for these kitchens.
Colours and textures
Green has been a popular colour for some time now and is set to continue to be so in 2023. Green is a colour we associate most with nature and, if used correctly, it can be an ideal shade to breathe life into a kitchen design. Green is also an adaptable and versatile colour that works well with cool and warm colour schemes. Different depths and shades of green can create a variety of looks for a range of tastes, making it a modern versatile choice. A fully green kitchen can look fabulous or it can be used in a two colour scheme, or as a statement colour, on an island for example.
Dark kitchens are also becoming more popular, often combined with the ever popular grey. Black can be more than just an 'accent' colour, with the proper lighting it can look luxurious and inviting.
Recent innovations in finishes include a Softcoating surface, which gives surfaces a matt look that feels soft to the touch. The Softcoating is also very easy to clean, and highly resistant to chemicals and scratches.
Not just kitchens
We will be extending our offer in bedrooms this year and predict that bespoke walk-in dressing rooms, will be on everyone's wish list. Featuring built-in dimmable LED lighting and premium glass shelving, our new range is perfect for those who want a more contemporary and elegant look. The LED lighting is even colour changing, from cool to warm and natural – matching any colour scheme and style you chose. This range is fully customisable, with extra clothing rails, trouser holders, and mirrored doors available.