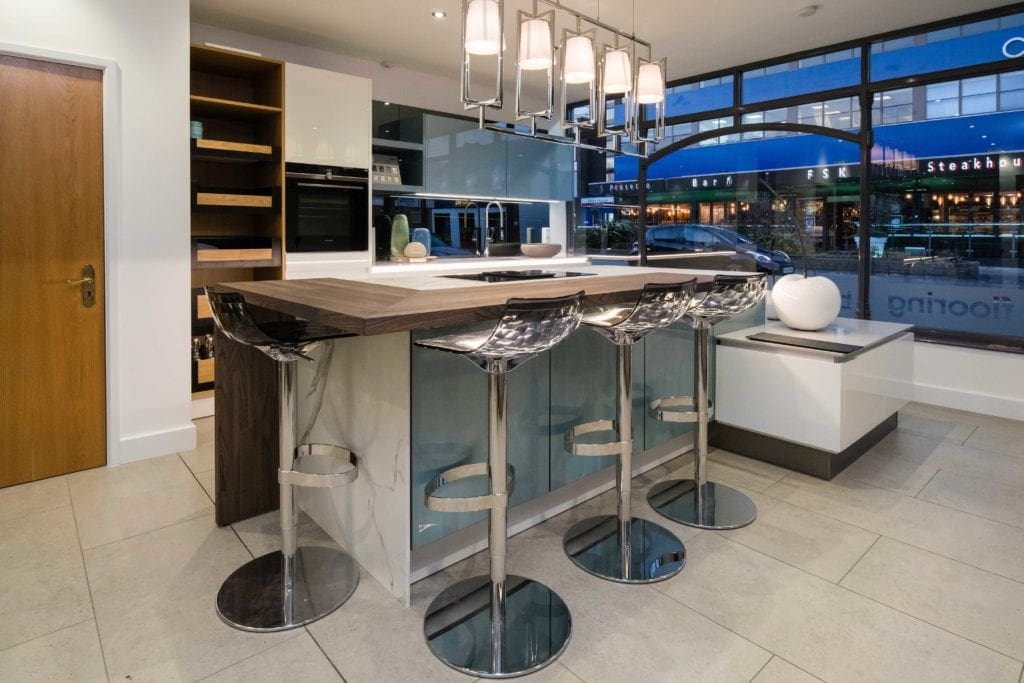 Save Money And The Environment With An Ex-Display Kitchen
If you have been dreaming of a new kitchen but think that you cannot afford what you want, have you considered buying an ex-display kitchen?
It is possible to obtain the perfect kitchen for your home by re-using a display from a showroom or an exhibition. It is easier than you think to find one that will fit your space and requirements, and we have several very happy customers that demonstrate this.
As kitchen designers we can redesign the kitchen for your space using your own dimensions or plans. We still produce plans, elevations, electrical specifications and everything else that is required to pass onto other trades, as we would with a new kitchen.
In many cases, you are not just getting a great discount on the furniture but will be buying the best as they will have been built to sell, just as the a show home would be. A display kitchen will usually include lots of gadgets and upgrades, as well as the highest specification appliances. It is also easy to add extra's to the display, these will be supplied at cost, providing even more savings.
When you buy a display from us, we make it as easy as possible. We offer a separate removal, wrapping, and delivery and installation service. Everything is itemised and up front, and there are no hidden extras. We can take the display into storage if required, for a modest weekly fee, and typically we can hold onto the display for 1-2 months once a deposit has been paid, until you are ready for it.
Apart from the environmental benefits of re-using materials and products that may otherwise end up in land fill you can also try before you buy. As the kitchen is already built, you can see how it works, providing a real life experience of the movement patterns as well as ensuring adequate storage.
Whilst you will be getting a great deal when you buy ex-display remember that if a deal is too good to be true- then it probably is. It pays to know what you are buying, do your research and ask the right questions, take a look at our top tips below.
Always view the display and take extensive photographs before deciding to buy.
Have accurate measurements of your kitchen space to hand when viewing.
Be on-site when the kitchen is being removed so that you can witness the care in which goods are being removed.  This saves any contentious issues further down the line.  Alternatively ask you fitter to remove so he understands how it is to be reassembled
Also consider the following questions:
Why are you selling the display?
How old is the display?
Is the range discontinued or can I buy extra's if required?
Have the appliances been used?
Does the kitchen come with any warranty?
By doing your research well, you can have your dream kitchen at a fraction of the cost. Why not contact one of our team and discuss your requirements? We look forward to hearing from you soon.