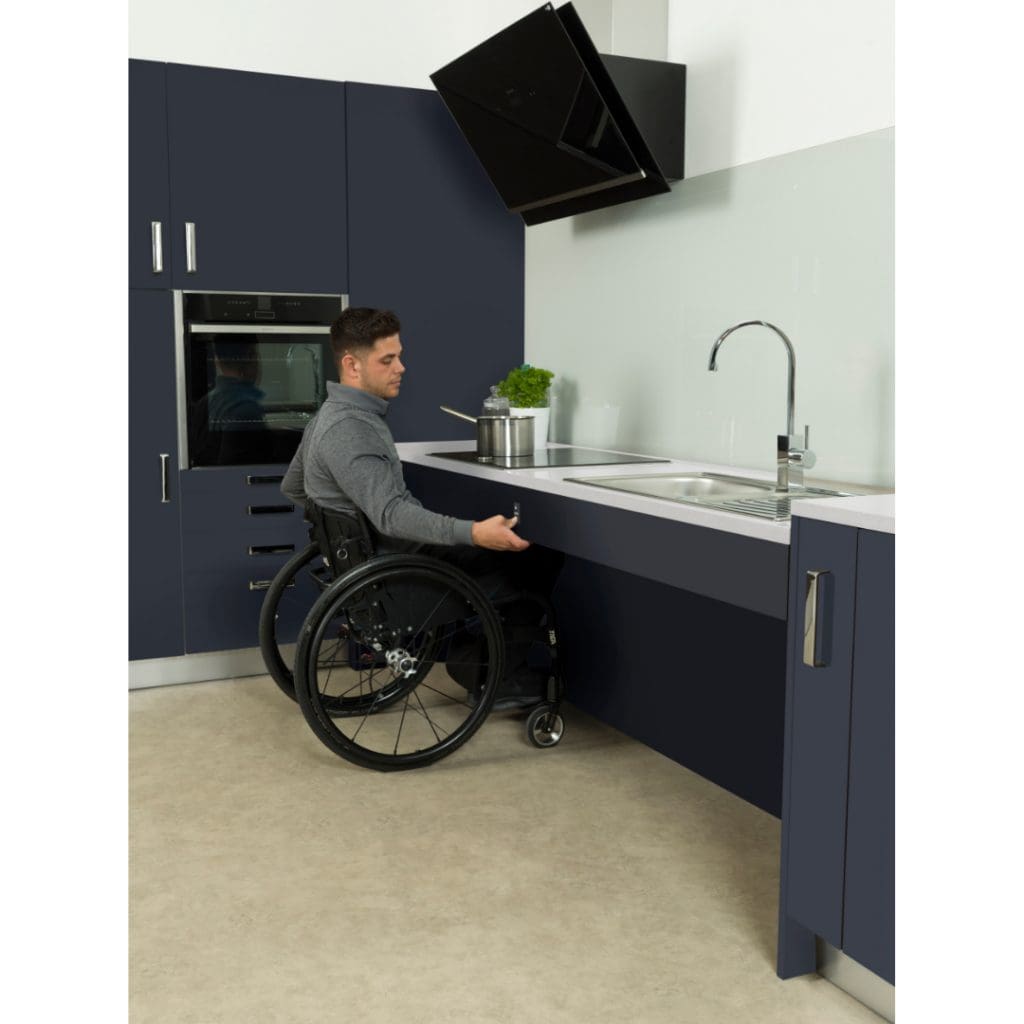 Designing A Kitchen For All
Kitchen design is ever evolving and whilst there will be trends in styles and colours the principles of an effective layout that is safe, functional and a pleasure to use for all, remains at the heart of our design philosophy.
We apply the principle of starting with questions about who will be using a kitchen to all of our designs, which is also the best starting point when designing an accessible or multigenerational kitchen.
For us multigenerational is not about creating a kitchen for 'old people', it's about making provision for the different needs of all the family, from toddlers to their great grandmas. It means creating a space that works for cooking, eating, socialising, homeworking, relaxing and quality family time
The kitchen is always the heart of the home, whoever is using it, and it should be a beautiful and joyous space, free of any restrictions that give it an institutional feel.
We are delighted that we have been selected to be an exclusive retailer of Freedom by Symphony, giving us access to an innovative range of accessible kitchen products.
Developed in partnership with Adam Thomas, the UK'S leading expert in accessible kitchen design, we can offer the freedom of independence in a kitchen with specialist design features and the latest kitchen styles. The collection can be designed to suit individual access requirements, without compromising on design.
We are able to follow the fundamental principle of inclusive design, ensuring safety throughout, and creating a space that reduces the risk of injuries and falls, without compromise.
The collection provides access to specialist features such as electric rise and fall worktops and wall cabinets that can be adjusted by the user. Innovative oven housings, pull-out tables and pull-out wirework can be included alongside standard cabinets to create a space for independence.
Storage
Clever storage solutions can reduce unnecessary reaching, crouching and carrying of items. Pull down baskets are an excellent solution for wall cabinet storage, which can be difficult to reach for most users. Pull out larder and base unit storage can be beneficial for bringing those harder to reach back of cabinet items to the user.
Appliances
Selecting appropriate appliances can have a big impact. Slide and Hide ovens are considerably safer than other options, as the door is hidden beneath the oven, there is no obstacle to reaching into or placing things into the oven itself. A heat resistance pull out shelf underneath the oven, ideally be located in a tall oven housing, and can also assist when taking hot dishes in and out of the oven.
Induction hobs rather than gas hobs, will remove the danger of open flames. Induction hobs do not heat up in the way that electric ceramic hobs do, and only activate when a pan is placed on the zone. They remain cooler during the cooking process, the surface only heats from residual pan heat, and loses heat quicker than a ceramic hob once turned off.
Worktops
Rise and fall worktops provide the flexibility in households of multiple users. Available in manual or electric these worktops can be raised or lowered to a safe and comfortable working height. For wheelchair users they also provide leg space so that they can get as close to the sink and hob as possible, as well as offering preparation space at a height of their preference.
Considering the worktop material used is also important. A worktop with a waterfall edge for the hob and sink work surface prevents liquids from spilling off a worktop and either onto the lap or onto the floor. This reduces not only scalding risks but slip risks from oil or water making its way to the floor.
Other considerations include power sources. Items such as kettles and blenders will require a socket that may need to be accessible for all. Using flip sockets or pull up sockets fitted in an appropriate area of the work surface are particularly useful.
The positioning of handles on kitchen cabinet doors can also make a difference. If handles are placed too high or too low then this could reduce the inclusiveness of the space, similarly if the wrong design of handle is chosen there is the potential it reduces the ease of use for the kitchen.
With all of these considerations, flexibility is key. Our aim is to take the best products available and design with creativity, and an open mind to create unique spaces that work for all.
We will be introducing some new displays into the showroom I before the end of the year, showcasing these design ideas. If you would like to find out more before the new display is in place, then don't hesitate to get in touch, we have access to samples, materials and concepts that can help you start planning your perfect accessible, multigenerational kitchen.