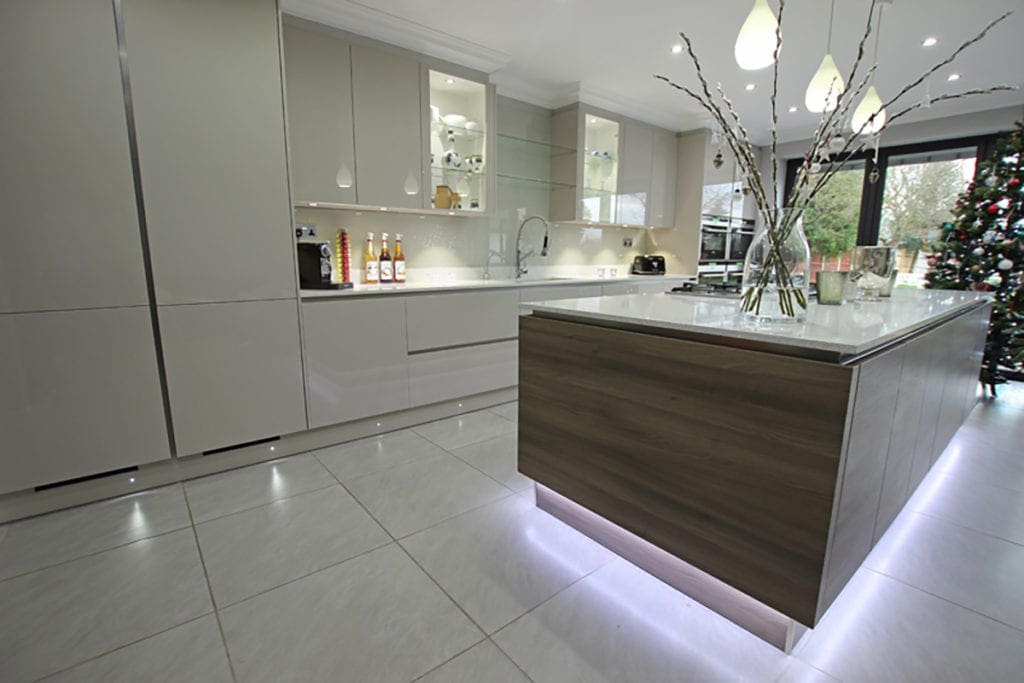 Light Up Your Kitchen
One area of kitchen design that has changed drastically over the last few years is lighting. Changes in technology have elevated kitchen lighting into an integral element of the kitchen design that can transform how a kitchen looks and functions.
A well designed lighting scheme can make a small space feel larger and significantly alter the ambience of a room.
At Qudaus Living we consider kitchen lighting at the planning stage, so that we maximise on all opportunities and provide the best lighting levels for all your kitchen tasks, adding mood lighting and features to enhance the design.
Task lighting
We begin by considering what natural light is available alongside the activity zones in your kitchen. Those areas that are functional such as the zones where food is prepaid or cooked will need adequate task lighting. Task lighting should be bright and shadow-free, for safe cooking and preparation.
Mood lighting can be softer and more creative. Fitting lights under cupboards, either spots or strips can offer effective task lighting. Spot lighting will illuminate specific areas and strip lighting provides a continuous run of light. Ceiling mounted lights, flush-fitted for a streamlined, modern look, are a practical solution to directing task lighting where it is needed.
Make a statement
Lighting can also make a bold design statement, a chandelier or row of striking pendants for example. As well as creating a focal point, these can become differentiators, separating relaxing areas from work areas.
LED lights have opened up a whole new world of possibilities. A run of LED lights under the rim of an island worktop could be coloured to add interest and make it an inviting space to be drawn to.
Lights could also be built into the plinth of a central island or a single run of units, to provide a gentle wash of light across the floor to make the cabinetry look like it's floating.
Mood lighting
The parts of the kitchen that will be used for socialising, such as the dining areas, will require mood and feature lighting. A light that can be raised and lowered above the dining area can be pulled down for a cosy candlelit supper or raised for everyday meals and other activities.
Cabinet lights that come on when doors are opened, lights above wall cabinets that illuminate door fronts and lighting shelves, both standalone external ones and those in glass cupboards are all great ways to add a sense of style and luxury to your lighting scheme.
Control
Consider incorporating a flexible control system for your kitchen lights to make the most of each type of lighting, separate control switches and dimmers will work well.