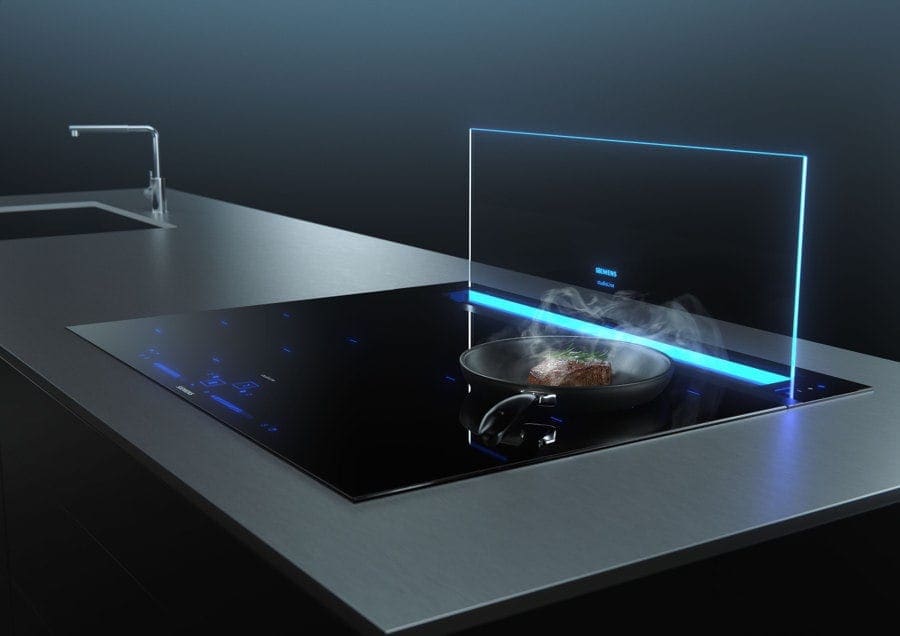 The New Siemens Glassdraftair Ventilation System – Ultimate Performance – Uncompromising Style
We are loving the new GlassdraftAir from Siemens, a very clever piece of outstanding design that is just perfect for when you want discreet and efficient extraction. The glass design and flush fit make it an easy choice for any modern kitchen, and with the re-assurance of the Siemens brand you know that it will deliver an optimal performance under all conditions.
The Guided Air technology creates an air curtain behind the glass, improving airflow and guaranteeing optimal and quiet extraction performance from all cooking zones. The glass rises seamlessly from the worktop, gently removing excess steam and unwanted cooking smells with ease.
In addition, you can alter the ambience with the emotionLight Pro. This feature allows you to set a colour accent that reflects your mood or the atmosphere of your kitchen. There are nine colour presets included, and you can also create and set your own with the Home Connect app – perfect for kitchens with specific colour themes.
We have the GlassdraftAir on display, why not make an appointment to visit the showroom and see it in action – we look forward to seeing you soon. In the meantime, take a look at our video here.