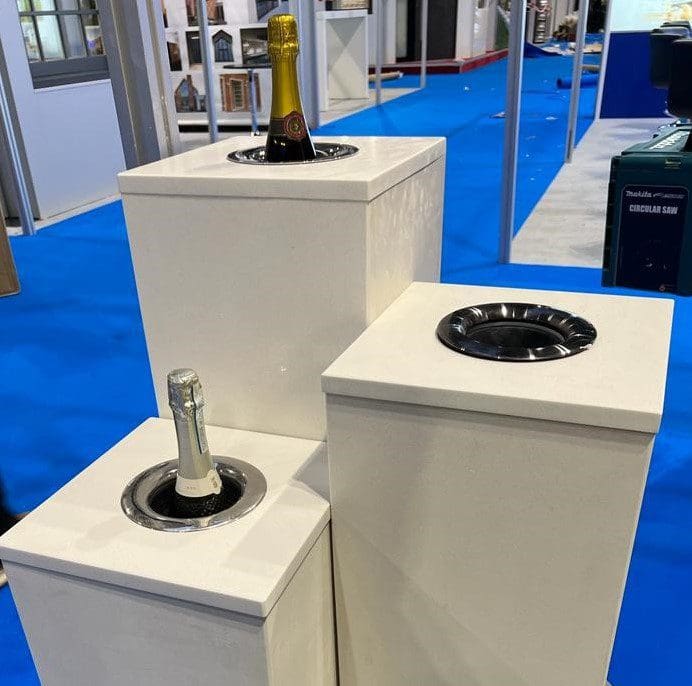 Exciting Products On Display At KBB Exhibition
We enjoyed visiting the first KBB trade show since lockdown began, grateful for the opportunity to visit the stands and view what's new in person. It makes a real difference being able to get up close to touch and feel the products, and have staff on hand to discuss them in more detail.
Here are details of our top three innovations, starting with the Kaelo bottle host.
We found these amazing bottle hosts two years and have installed them in many kitchens.
It's the perfect wine cooler that is integrated into the worktop, and keeps your drink chilled once you've opened the bottle. Using a dry cooling system, Kaelo keeps the bottle within 1-2 degrees of its opening temperature with no ice, no drips, and no refills.
We loved the new models on display at KBB and have already ordered them for the showroom. The Undermount is hidden underneath the worktop and has a lid which is made from the same material as the work surface. The Flush Line creates a sleek and seamless finish and the Classic has a stylish curved bezel.
All models now come with a red wine mode, keeping the drink at the optimum temperature of 14-18 degrees; and a boost which gives the option to chill a bottle to 3-4 degrees colder in 30 minutes. There is also a stunning rainbow-effect LED lighting which brings an element of theatre into the kitchen.
The Kaelo is easy to install and compatible with most work surfaces. It is also energy efficient, using the same electricity as a 60W light bulb.
This is such a clever product, and even better it has been designed in London and hand built by master craftsmen in the Cotswolds. We love it and can't wait to introduce the new models to our customers.