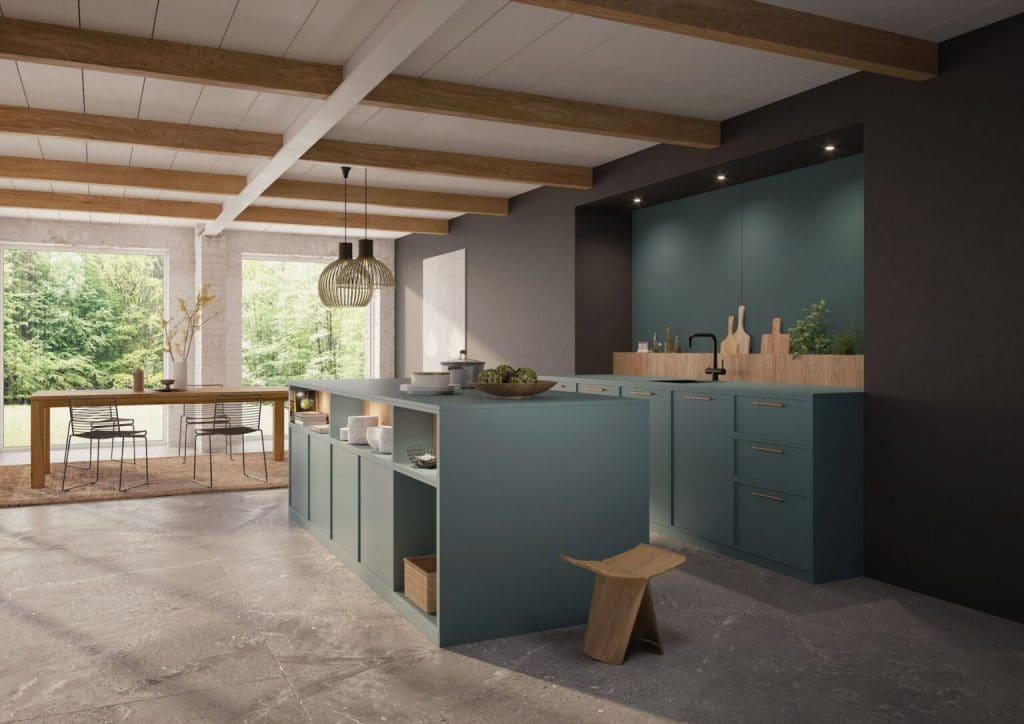 New Green Velvet
We recently visited Germany to view the new product launches for kitchens and were blown away by the gorgeous new colours, finishes and some amazing innovations.
One product that we loved that will be coming to our showroom soon is the stunning Green Velvet door. This is not only an amazing colour but the innovative Softcoating surface gives it a matt look that feels soft to the touch. The Softcoating also makes it easy to clean, and highly resistant to chemicals and scratches
It is a thin profile door with modern shaker styling. The contemporary bronze handles compliment the look which partners well natural shades and wood in the kitchen seen here.
Green has been a popular theme in kitchens throughout 2022 and we will see this continuing into 2023. Green is a colour we associate most with nature and, if used correctly, it can be an ideal shade to breathe life into a kitchen design. Green is also an adaptable and versatile colour that works well with cool and warm colour schemes. Different depths and shades of Green can create a variety of looks for a range of tastes, making it a modern versatile choice
If you have been inspired to create a Green kitchen why not make an appointment with one of our talented designs – we look forward to seeing you soon.