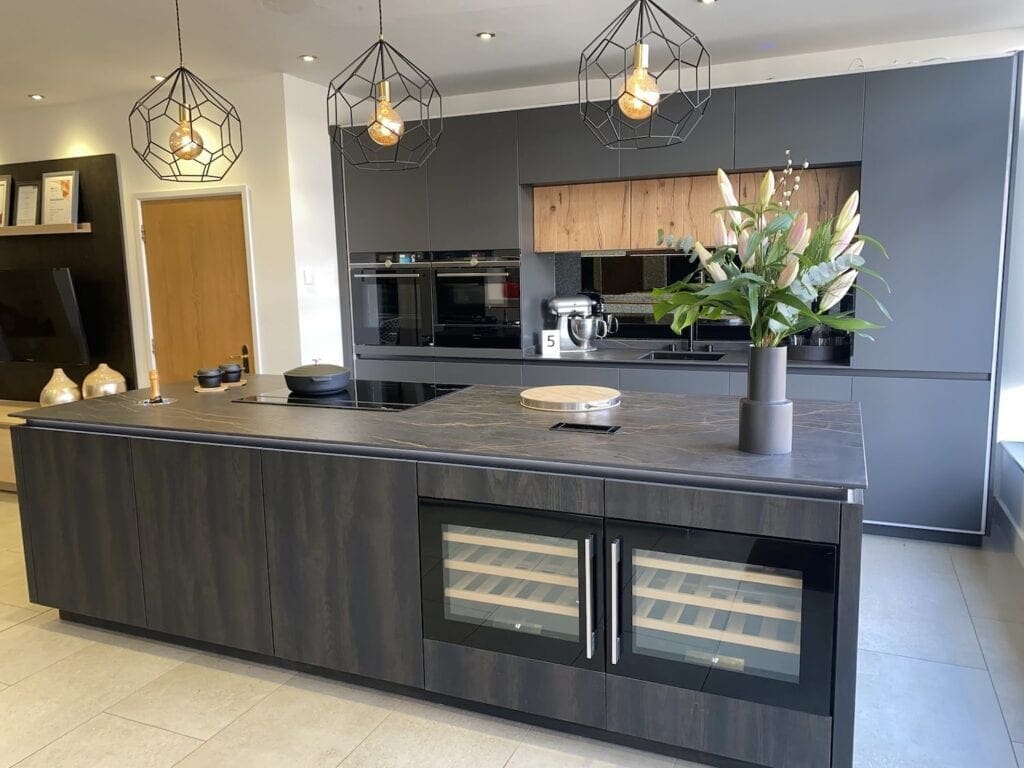 New Displays Showcase Industrial Style Kitchens
If you have been dreaming of an industrial style kitchen in your home but are not sure how to create the look, then visit our showroom and take a look at our gorgeous new display.
Our new display has industrial touches to create a look that is achievable in many homes, whether your current kitchen space sits in a contemporary home or a period property.
With its easy-going style, and hint of edginess, this kitchen creates a lived-in, laid-back look that's hard to beat.
The warm colours of the kitchen units are enhanced by the stunning worktop with its brown copper tone that adds some zing and creates a subtle industrial feel. The doors are handleless for a streamlined and modern look and the wooden wall units over the sink area add contrast.
The glass splashback adds another modern touch, it is also a very practical solution being extremely easy to clean. Clever finishing touches such as the metal light fittings bring the design together.
This kitchen also includes some innovative appliances that make entertaining a breeze. It includes the Kaelo, an amazing wine cooler that is integrated into the worktop, and keeps your drink perfectly chilled once you've opened the bottle. The unit sits flush with the worktop, with only the crown on display. Just a touch on the crown will turn your Kaelo on, and cold within seconds. A single touch also allows you to select a colour from 27 different options.
In addition, the built-in wine cooler cupboard can store drinks of any kind from vintage champagne to bottles of tonic.
The induction hob is served by a new Siemens GlassdraftAir. This sleek extractor is hidden away until needed, when the transparent glass rises seamlessly from the worktop, gently removing excess steam and unwanted cooking smells with ease – more on this fantastic product soon.
If you would like to see more of this beautiful kitchen then please call the showroom and book your appointment – we look forward to seeing you soon.